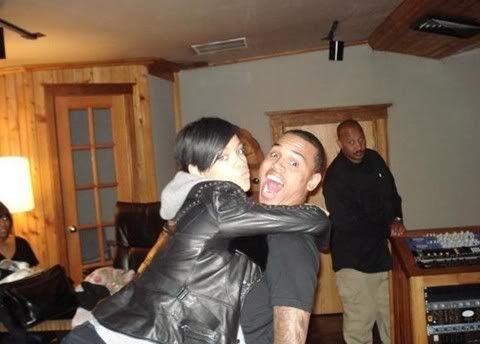 Some shocking news were brought to our attention just after the Grammy Awards. 19 y.o. Chris Brown, turned himself in at 12:30 am after the local police office received a call of complaint about an assault. It is believed that the young superstar attacked noneother than his sweetheart, Rihanna. Although this is nothing official, all the leads the police have point to him.
The both previously pulled off the Grammy performers list. He was supposed to perform 'Forever' and RiRi, 'Disturbia'.
The LA Police declared that the identity of the victim will be kept confidential, while she [the victim] has that right.
This isn't right at all. They were one of the best couples music stage has to offer these days. 2 young artist with great potential, that were going nowhere but up! Distrubing news, no doubt...who would've thought..they were looking just fine! I'm still hoping that Rihanna is not the victim.
Still, Chris is one way down now. After these news were made public, chewing gum makers, Wrigley, suspended a commercial with Chris Brown after he was arrested. His song 'Forever' had some refference to the gum, thus the collaboration. Even though he got out of prison after posting a 50.000$ bail, the verge he's on is shaking right now.
I'll update you with current news as soon as they get to me!
UPDATE:

Chris Brown already cancelled one of his shows. He'll go to court on March 5th and the LA Police have declared that he may be facing more charges once in court!
Rihanna also cancelled a show and her birthday, which she had been preparing for a month together with her label. Her Grandmother declared that RiRi is fine and that all those news, according to which she had a broken nose were fake!